Message from the President, by Amber Wesser
October 7, 2021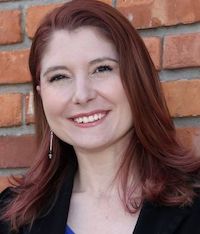 As the temperatures drop, the Bills hit the gridiron and the leaves turn brilliant colors, it's apparent that autumn is upon us. We continue to navigate the ups and downs of the Covid-19 pandemic, working hard every day to serve our clients and help people achieve the classic American dream of home ownership. New listings are down 2.3% from last year and the average sales price is up 21.0% We are seeing a slow down in the number of offers in multiple-offer situations although there are still some unicorns in the market that get 30 plus offers. The average home is on the market for 17 days. Dr. Lawrence Yun expects we will still see a 5% equity increase year over year in 2022. It will be interesting to see how that will affect our local marketplace.
Because of the pandemic and an abundance of caution, our state meetings at Turning Stone were cancelled. We can, however, still participate in virtual meetings. I hope many of our members will take advantage of this opportunity and take part in the virtual meetings, committees and classes. One class I never miss is the Legal Update. Anthony Gatto does a great job speaking to the most common questions and issues we are faced with today.
One of the events I was most looking forward to was the recognition and honor earned by veteran Realtor Charlene Zoratti, who was named Realtor of the Year by NYSAR. For nearly 40 years, Charlene has represented the Realtor profession in the best possible light, working as a sales leader, mentor, and community leader. This highest recognition by the State Association is well-deserved!
The BNAR continues to provide our Realtor members with relevant training, classes, and events. We enjoyed a Leadership Appreciation night at the historic Knox State Park, an Emeritus Luncheon honoring Realtors who have more than 40 years in our industry, a reconnect event at the new and impressive Hofbrauhaus, downtown Buffalo's German beer garden and to kick off October, our High Tech High Touch Event at the Millenium.
More events are on the docket, including a fun-filled RPAC fundraiser. Mark your calendars because on October 28th, from 6-9pm, you can enjoy unlimited bowling, free shoes and bowling balls, delicious food, wine, beer, and pop, all types of activities, including pool, Cornhole, video games. The fun happens in a private boutique bowling center at Transit Lanes in Williamsville.
Every guest will also have a chance to win a $500 gift certificate to Barbara Oliver Jewelry, just in time for the holiday season! Be sure to buy your ticket – and invite your friends and family for a safe, fun night out – by using your member portal!
Sincerely,
Amber Wesser,
BNAR President 2021
I am available, 24/7/365 so please feel free to email me