Message from the President, by Amber Wesser
December 3, 2021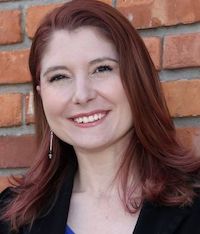 Cooperate and Empower
Those meaningful words were the theme of my presidency for 2021, a most unusual year that had its challenges, just another aspect of what made the last 12 months unique to my presidency. We all come from different backgrounds, different education experiences, and different perspectives. Thank you very much for a year that I am proud to say I was your President.
As the months unfolded, it became clearer that the BNAR provides so many advantages to its members. I encourage you to take advantage of the many opportunities available to you at the Association.
With the help of the Executive Committee, Joel HusVar, Rosalind Burgin, Vienna Laurendi, Donna Littlefield, Gary Kenline, John Leonardi, Directors and the dedicated BNAR Staff, I'd like to highlight some of the things we accomplished this year:

Had our first ever virtual Installation
Updated our Strategic Business Plan
Reached our RPAC goal
Hired staff member to oversee Diversity, Equity & Inclusion initiative
Earned our Core Standard certification
Did interviews about our industry on radio, TV, and print media
Updated our phone system
Updated the training room and one large conference room to be hybrid-capable
Updated our BNAR Member Portal
Updated our public-facing BNAR Website
Added a Text Messaging Option for BNAR communication to the members
Held a successful Agents Day with 325 attendees
Held the Key Communicator Kick-off
Hosted a member REConnect Event at the Hofbrauhaus Buffalo
Hosted three Fair Housing Seminars
Had Leadership Appreciation Event
Attended mid-winter State Business Meetings
Attended Fall State Business Meetings
Attended NAR Conference
Participated in BNAR Economic Forecast Event with Lawrence Yun
Held our Emeritus Luncheon
Attended High Tech High Touch Event
Additionally, a few other notable events were part of this productive year:
127 BNAR classes were held this year
51 committee meetings were held this year
512 members were added to our membership this year
I am proud to say that the Association donated to Combat Veterans Motorcycle Association 19-6 ($2953.50) and to WNY Heroes Inc. ($3663.59)

Last but not least, I would like to thank the BNAR staff, Directors, Chairs, and Co-Chairs for their commitment to Leadership. With this type of commitment, our growing Association can only grow and become better.

Thank you very much for the honor of serving as your President.
Sincerely,
Amber Wesser,
BNAR President 2021
I am still available, 24/7/365 so please feel free to email me