BNAR Accelerate is an innovative think tank that ensures future relevance and value of our programs and services.
The leadership team and directors has invested in this advisory group. They are BNAR members who have been working together to examine the entirety of BNAR with special emphasis on our value proposition and the services we deliver. Specifically, with the changes in technology, agent priorities and the plethora of communication vehicles it is important for our organization to improve. The challenge is that they need input from our members, the opportunity we are asking for is to schedule representatives from Accelerate team to come to one of your office meetings to solicit member input. Please contact Deanna Zavah at BNARAccelerate@gmail.com to schedule an appointment.
This our collective association - brokers, agents and staff; together we need to move BNAR forward to sustain our organization. On behalf of the leadership team and directors thank you!
Here is a short video about the Accelerate team: - https://youtu.be/ixyhNdUdteM
Goals
Ensure BNAR offers relevant and meaningful programs, services and value now and into the future through the generation of ideas from new, diverse professional voices.
Create a leadership funnel for the association through enriching leadership training, coaching and mentoring that help participants advance in their careers.
Reconsider the way in which BNAR association management is done.
Team
Operations
Functioning as an adjunct body of the Board of Directors, Accelerate operates semi-autonomously to develop and execute its own agenda of priority projects while in close communication with the Board.

Mission: To empower BNAR to be relevant the members it serves.
Vision: To provide BNAR with a template for communications, education, services and provide value to its membership.
Values: To satisfy the membership through forward movement, financial responsibility, education & growth.
Strategy: Strategic growth in line with membership wants. Evaluate all current practices and processes.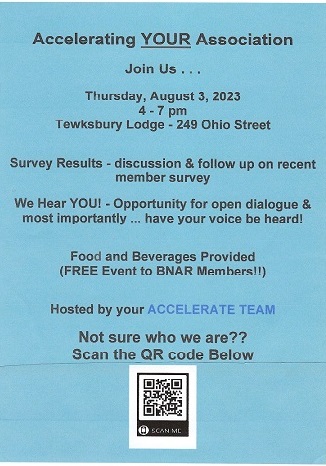 Here is a PDF that you can print and post in your office.
Please register through your member portal/events.