DEI/Fair Housing
Diversity, Equity & Inclusion/Fair Housing
DEI, which stands for Diversity, Equity and Inclusion, is a term that is becoming more and more prevalent in all aspects of society, including the business world. DEI is a conceptual framework that promotes the fair treatment and full participation of all people, especially in the workplace, including populations who have historically been underrepresented or subject to discrimination because of their background, identity, disability, etc.
The BNAR is committed to these important principles and has a dedicated staff member, Brenda Alesii, overseeing DEI education and initiatives for our members, staff, board of directors, and constituents. DEI strengthens us as an Association; these ideals will embody our culture moving forward to ensure innovation and organizational success.

Did you know? February was chosen as Black History Month because it contains the birthdays of Abraham Lincoln and Frederick Douglass. For more info, please click on this link:
https://www.yahoo.com/video/black-history-month-explained-started-175250248.html
BNAR President Interviewed on WBFO Radio

Rosalind Burgin, president of the Buffalo Niagara Association of Realtors, appeared live this morning with talk host Dave Debo on WBFO Radio. She talked about the discrimination Realtors have experienced at open houses and in the industry, and a new video series to combat it. The interview will be re-broadcast tonight at 9pm, and on demand this afternoon at WBFO.org

BNAR Press Conference on Anti-Discrimination Videos

Realtors of color say they often experience racial profiling, so the Buffalo Niagara Association of Realtors (BNAR) has launched a series of anti-discrimination videos.
The BNAR hosted a press conference on January 11, 2023, to unveil the professionally-produced videos; they were presented to real estate agents and a host of public officials, saying they are the first in the country to create anti-discrimination videos of this kind.
Here is the link to the recorded press conference: https://youtu.be/bmOgz9O88Bo
The videos can be viewed on the homepage of the BNAR website at www.bnar.org
BNAR Hosts Diversity, Equity and Inclusion/Fair Housing Summit


The BNAR hosted a Diversity Equity & Inclusion/Fair Housing Summit at the M Hotel in Cheektowaga on December 5th before a packed room of Realtor professionals. The event was moderated by the BNAR's John Leonardi and Brenda Alesii.

The panelists - Dr. Henry-Louis Taylor, Dan Corbitt, Diana Patton, Julie Snow, Brian Archie, Rhonda Frederick - offered perspectives on discrimination among protected classes, redlining policies that have thwarted the dream of home ownership, appraisal disparities, and how Realtors can help better serve the community. Our audience was engaged and passionate about learning more about overt and subtle racism, the history of harmful policies, and a desire to make substantive changes in our region. #DEI #BNARwny #FairHousing #Realtors
Housing Opportunities Made Equal (H.O.M.E) Annual Dinner
DEI Vice-President Brenda Alesii attended the annual Housing Opportunities Made Equal (HOME) Dinner & Celebration last week in downtown Buffalo. The BNAR is proud to support the fine work this fair housing organization strives for as they promote equality and the value of diversity for all people.
DEI Committee Met at the Centro Culturale Italiano di Buffalo on Hertel Avenue
What a pleasure it was hosting our Diversity,Equity & Inclusion (DEI) meeting at the Centro Culturale Italiano di Buffalo on Hertel Avenue this morning. Celebrating one year since its opening, the beautiful Center was the longtime site of the North Park Library. Speakers included Delaware District Councilmember Joel Feroleto, Lindsey Visser, deputy director of the Center, and historian/genealogist Angelo Coniglio. Our topics included discrimination against Italians and other immigrants, real estate in the city, and how this abandoned site is now a key part of the city's Northside revitalization. As always, thanks to my committee members, who are engaged and passionate about moving the diversity needle. #diversity #Italianculture #Fieldtrip
National Federation for Just Communities
The BNAR's VP of Diversity, Equity & Inclusion, Brenda Alesii, along with Realtor Tamika Murphy, was invited by Rene Petties Jones, president of the National Federation for Just Communities, to their Social Justice summer day camp today. Tamika's business partner, Mia Mootry, also joined the meeting. Tamika, Mia, and Brenda talked about racism in real estate and showed the video and interview the BNAR recently produced, shining a light on the prejudice Realtors of color often experience. The young campers were engaged and asked excellent questions. We welcome opportunities to share our video. Contact Brenda Alesii at 716-636-9110 or at balesii@bnar.org for more information.
WEBR AM 1440 Radio Interview August 3, 2022

The Buffalo Niagara Association of REALTORS Government Affairs Director and VP of Diversity, Equity & Inclusion (DEI), Brenda Alesii, joined REALTOR Mary Murray Jacobs today on "Open House." Jacobs hosts a real estate-related show on WEBR AM 1440 every Wednesday at 6pm. Alesii and Jacobs discussed why DEI is a huge priority for the Association, the initiatives put forth by the DEI committee, and the need for diversity education. In addition, Alesii explained how government affairs work involves lobbying legislators on all levels – from City and County Halls to Albany to Washington, D.C. - to protect homeowners' rights, lower property taxes, and a litany of other REALTOR-friendly issues. The BNAR appreciates the opportunity to spread the word about the wide variety of services available at the Association.
DEI Summit June 13 & 14
I was honored to have attended the Diversity, Equity & Inclusion Summit in Mahwah, New Jersey last week. Kudos to all the speakers and organizers, especially Freddimir Garcia, and to keynote speaker Eric Bailey (pictured here), author of "The Cure for Stupidity." The Summit emphasized "Discover-Learn-Act" and helped us explore the DEI principles within the real estate industry and beyond, which helps us build better relationships in all facets of our lives. #diversity #equity #inclusion #movetheneedle.
DEI Committee Meeting June
Thanks to our DEI committee members as well as Steven Haagsma from Housing Opportunities Made Equal, Inc. (HOME), who addressed the group about the value of diversity and their mission to ensure that people - all protected classes - have an equal opportunity to live in housing and communities of their choice. We also talked about disturbing examples of overt discrimination in the area real estate industry. I applaud the agents who shared their stories because it motivates us to continue to shine a light on the darkness where hate and evil live.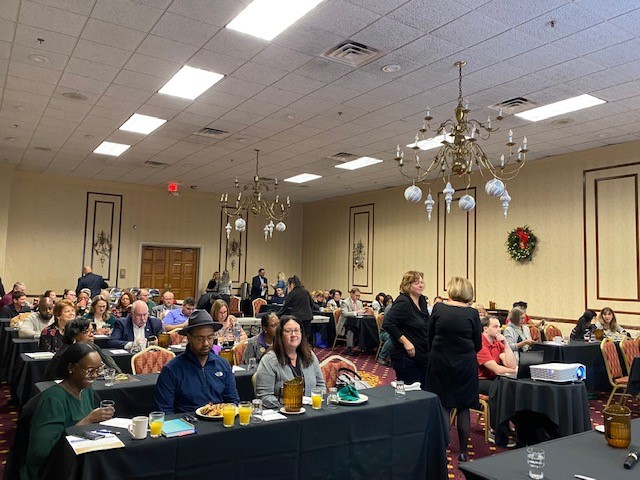 DEI Committee Meeting
I'm extremely proud of the Diversity, Equity & Inclusion committee, which continually works to make not only the real estate industry live by these principles, but strives to incorporate DEI in all aspects of our lives. Thanks to Professor Fauzan Haq for a fascinating this morning presentation and to the committee's engagement.

DEI Committee Meeting March
What happens when you get a group of dedicated, passionate Realtors for our first in-person Diversity, Equity & Inclusion meeting of 2022 at the BNAR? A meeting filled with creative ideas and purpose! Thanks to the committee members and a big tip of the hat to our guest speakers, Kathy Spillman and Andy Cammarata from Journey's End Refugee Services. Their presentation was not only eye-opening, but informative and timely.

Mother Language Day celebrates both cultural and linguistic diversity and honors all languages of the world. The resolution establishes the day in New York State, in conjunction with International Mother Language Day, which was officially proclaimed in 1999 by the United Nations Educational, Scientific and Cultural Organization (UNESCO). Mother Language Day originated in Bangladesh and honors the sacrifice of those who were killed protesting for the right to speak their native language. As we continue to welcome immigrant and refugee communities in Western New York, it is essential that we celebrate the cultural and linguistic diversity of our region and the state as a whole.
Upcoming Events:
The Niagara Falls Underground Railroad Heritage Center, 845 Depot Ave. West, Niagara Falls, and Explore and More, the Ralph C. Wilson Children's Museum at Canalside in downtown Buffalo will hold free Black History Month programs for kids 3 to 12 at 2 p.m. Saturday in each other's facilities. Youngsters will learn about Black role models, past and present, followed by an art-making session. For more info and to register, click on Events at niagarafallsundergroundrailroad.org
Panel Discussion from Agents Day on November 3, 2021 is now available on You Tube
BNAR No Longer Invisible: Being Heard & Seen; a Frank discussion about Diversity, Equity & Inclusion
https://www.youtube.com/watch?v=GmJabw_5Ua0
DEI is not going away; embracing it can drive innovation and organizational success!
Earlier this year the BNAR launched their first virtual panel discussion focusing on Diversity, Equity & Inclusion (DEI) in April. Diversity is expressed in many different ways: races, ethnicities, languages, religions, ages, disabilities, sexual orientations, gender identities, socioeconomic statuses, veteran status, and more. Leaders are now met with the challenge of addressing topics that may have previously been thought of as "too political" for the workplace. Today, it's widely known that speaking up is an opportunity to support your employees and co-workers, and enhance the company culture. These conversations are not about politics - we're talking about basic humanity.