Government Affairs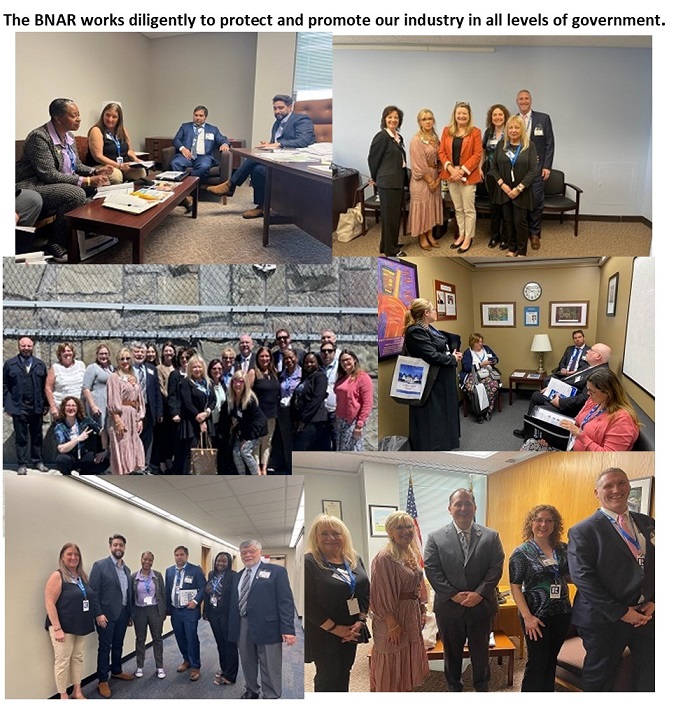 Lobbying has been the focus of the BNAR leadership team over the first two weeks of the month. On May 1st, we traveled to the nation's capital to meet with our region's Congressional representatives and discussed key topics directly related to home ownership.
Additionally, a week later, we traveled to Albany with a contingent of REALTOR members who met with our State Senators and Assembly members in Albany. Our focus was on four specific areas of interest: Good Cause Eviction, Telemarketing Restrictions, Housing Co-op Transparency, and the All Electric Building Act.
Congressional Maps
On April 28, 2022, the state's highest court threw out the state's Democratic-drawn congressional map because of partisan gerrymandering. After a redistricting commission couldn't agree on the district lines, the Democratic majority took the pen. Republicans sued, arguing the lines were skewed. An appeals court agreed, saying that the maps gave Democrats a leg up in 22 of the state's 26 congressional districts — and that it violated the state constitution. Now, the court has appointed a special master to draw new maps. The delay means NY's primary election — which was scheduled for June — may not happen until August. All of this could throw a wrench in candidates' plans as they try to garner support ahead of the midterms.
Government Affairs Committee Meeting April 28, 2022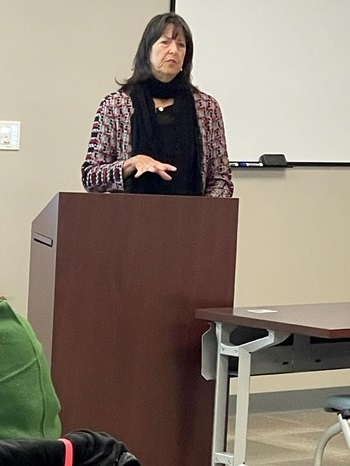 Our thanks to National Fuel president Donna DeCarolis for her informative presentation this morning to the government affairs committee regarding the controversial Climate Action Plan. We look forward to further discussions and the results of the public hearings, which end on June 10th
Nick Langworthy Reception
BNAR Secretary/Treasurer Vienna Laurendi and Government Affairs Committee Co-Chair J. Gerard Green, along with the Association's Brenda Alesii, attended a reception in support of New York GOP Chairman Nick Langworthy on April 21st at the Buffalo Airport Hotel. Langworthy, the statewide leader of his party, spoke about the challenges of running Republican races in a mostly blue state, the upcoming June primary, and his party's support of Republican candidates. Several were on hand, including veteran police officer Alison Esposito, the candidate for Lieutenant Governor, who also addressed the crowd. She and Lee Zeldin are on the GOP ticket along with a slate of others who hope to defeat Democrats in the primary and election. As always, the BNAR supports Realtor-friendly candidates in a consistent bi-partisan way.
BNAR Town Hall
Buffalo Mayor Byron Brown was our guest at our April 13 BNAR Town Hall meeting. A longtime supporter of Realtor professionals, Mayor Brown addressed a number of housing issues in the city, new affordable property initiatives, and the need for collaboration with suburban communities. The fifth term incumbent also discussed a number of other key initiatives:
"Rapid Upskilling" in which residents are trained in new careers, affording them the opportunity to live in safe and thriving neighborhoods
Need to expand housing, with a goal of 40% affordability in the city
11,000 vacant lots remain in the city, values are rising; the city is strategically assembling lots to develop housing on the parcels
Seeks range of options in multi-tier housing, making the city an address of choice
Continue to redevelop former schools into city housing
Work with property owners to resolve issues related to the Good Cause Eviction bill
Collaborate with Amherst and other communities to help with housing issues – inflation, pandemic problems, higher interest rates
Mayor Brown was accompanied by Hope Young-Watkins, the city's director of real estate. He encouraged members to call her for any assistance needed. After a 40 minute presentation, the mayor spoke with a number of Realtors in an informative Q & A session.
Both County and State budgets are in the news this week. Here is a brief highlight of some of the relevant points related to real estate:
Erie County budget:
Erie County Executive Mark Poloncarz noted the county is in a unique position with a budget surplus of more than $150 million, a combination of federal stimulus, COVID relief monies, and higher than expected sales tax revenue.
Regarding property taxes, Poloncarz proposed a lowered property tax rate per thousand of assessed value from $4.42 for 2021 to $4.33 in 2022, a rate Poloncarz said is the lowest since 1960.
A "Live Well Erie Summit" to address affordable housing is slated for June and an Affordable Housing Task force will address Emergency Rental and Mortgage assistance remedies.
New York State "Conceptual" budget
Property tax rebate for homeowners: Gov. Kathy Hochul's first budget includes a new property-tax credit for 2.5 million eligible residents earning less than $250,000. The total is about $1.2 billion dollars, it was reported. Checks will be between $500 and $600 dollars and should be going out sometime in late summer or early fall, before the next election.
Middle-class tax cuts: Hochul requested an expedited tax cut for more than six million New York residents, two years earlier than the state's middle-class tax cut plan. Those cuts vary by income and apply to households earning between $27,000 and $349,000.
A $4.2 billion environmental bond act will go before voters this November. Much of the money will go toward strengthening water and sewer systems.
BNAR Government Affairs Meeting March 31, 2022
At our Government Affairs Committee meeting on 3/31/22, we were joined by two town supervisors, John Whitney from Grand Island and West Seneca's Gary Dickson. Both gentlemen have unique backgrounds – Whitney was a longtime engineer before entering politics and Dickson was an FBI agent, who served five years in Moscow and other hot spot locations around the world. Both supervisors spoke about sewer code compliance, the status of properties in their respective towns, including the former Fantasy Island and the old Seneca Mall, along with a host of other town issues relevant to Realtors. We appreciate such informative conversations from our elected officials.
Good Cause Eviction Update:
Take Action Now! The state Legislature is considering passage of "Good Cause Eviction" legislation, which would restrict the ability of a landlord to evict a tenant, even in cases where their lease has expired so long as the tenant continued to pay rent. The bill (S.3082/A.5573) would also effectively cap annual rent increases to 3% or 1.5 times the CPI for most rental properties statewide with four units or more, unless the landlord is able to prove before a judge that an increase above that threshold is necessary or reasonable.
Urge your state lawmakers to oppose "Good Cause Eviction" legislation by filling out the petition here. This petition is part of NYSAR's coalition efforts to oppose "Good Cause Eviction" as we partner with other real estate and business groups across the state.
"Good Cause Eviction" would simply make it less affordable to provide rental housing, severely discourage real estate investment, and ultimately drive up rents for tenants. Thank you for making your voice heard on this important issue.
Complete the Call for Action by copying and pasting the following link into your browser or clicking on the button below:
https://www.hfaany.com/take-action
The BNAR and NYSAR continue to lobby against the passage of the Good Cause Eviction bill, which would undoubtedly result in higher property taxes, fewer quality homes, and impossible burden on property owners. The Eviction Moratorium, which expired on January 15, 2022, has already proven to be detrimental to so many owners, especially the numerous mom-and-pop owners in our region. Tenants in New York State already have ample protection against eviction. The Housing Stability & Tenant Protection Act of 2019 provided tenants throughout the state with several new and enhanced protections against eviction.
Recently NYSAR and other concerned parties sent a letter to Governor Kathy Hochul and the state legislature detailing why this bill should not be passed. Here are the key points:
Thank you for your leadership during this time of crisis and for your efforts to help our state build back better and more equitably. As a statewide coalition of property owners, we were pleased to see the inclusion of $2 billion in pandemic relief funds in the FY 2023 Budget proposal. We are writing to request that you allocate the full $2 billion towards either the Emergency Rental Assistance Program (ERAP) or other rental assistance programs. The ERAP program is the best way to get targeted help to renters financially hurt by the COVID-19 emergency, but the program needs more funding for it to be effective. ERAP has thousands of unfulfilled, pending applications that require funding. Additionally, there may be more eligible renters who did not yet apply. We expect that many of them will now apply with the expiration of the COVID[1]19 Emergency Eviction and Foreclosure Act (CEEFPA). Lastly, as ERAP only covers 12-months in arrears, either this program must be modified or LRAP must be adapted to ensure tenants in particularly dire circumstances can access a second allocation. The immediate availability of the State funds could allow for the money to flow more quickly to renters in need. By partnering with courts across the state, these funds could be distributed to prevent nonpayment proceedings from progressing and keep struggling renters in their homes
As always, contact me with any questions at balesii@bnar.org or at 716-636-9000, x110.
___________________________________________
On January 25, 2022, the Buffalo Common Council passed a resolution supporting the state Good Cause Eviction Bill. The vote was 5-4. Councilmembers Feroleto, Golombek, Scanlon and Wingo were in the negative. Council President Pridgen stated that he believed the state bill needed work and that he would like the Western New York delegation to take a hard look at what should be done. He was the swing vote and made a statement about not punishing good landlords but something needs to be done to protect tenants.
Many REALTOR members are also landlords, investors, and property owners. As the pandemic has raged on, thousands of people have been adversely affected by the Eviction Moratorium and Good Cause Eviction laws. On January 15th, Governor Kathy Hochul did not extend the moratorium, but significant issues remain. The bill had created a perpetual lease. Additionally, many problems became apparent with the flawed distribution of emergency rental assistance funds, an issue that still lingers to this day.
On January 21st, BNAR government affairs director Brenda Alesii hosted a virtual meeting with Realtor members about these issues. Lisa Damiani from the WNY Property Owners Coalition addressed the group in detail about the moratorium and good cause eviction. Damiani's group has been very vocal in their support of landlords, property owners, and investors. Both Alesii and Damiani have lobbied officials in the State Senate and Buffalo Common Council. They urged Realtor members to make their voices heard by calling, emailing, or sending letters to government officials. It was noted that other aid is available. In the meantime, the BNAR, along with NYSAR, will continue to monitor the situation and keep the Association membership updated. For more information, please contact Brenda Alesii at balesii@bnar.org.
BNAR Government Affairs Meeting February, 2022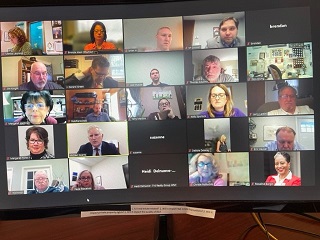 Thanks to Erie County Clerk Mickey Kearns and Kate Lockhart from the WNY Law Center for joining the BNAR's Government Affairs Committee. Our members learned more about the Zombie homes/foreclosures that Clerk Kearns and Ms. Lockhart are diligently working on throughout the county. We appreciate the efforts of these devoted professionals as well as the excellent questions posed by our committee members.
Latest News:
On January 18, 2022, Governor Kathy Hochul presented her first Executive proposed budget for the fiscal year beginning on April 1, 2022.
The $216 billion budget proposal includes multiple real estate related initiatives including affordable housing funding, homeowner rebate checks and changes to the use of criminal background checks by landlords.
The next step in the state budget process is a slate of Legislative hearings in specific budget areas which will begin next week and conclude on Feb. 16.
Following that, the Senate and Assembly will each present their legislative priorities and negotiations with the Governor will begin.
The state budget is required to be approved by April 1.

The Pandemic Continues...
The pandemic continues to affect all of us in countless ways, including life in the very places we live. One of the more challenging impacts of this unprecedented global pandemic has affected both property owners and landlords. A measure called the Good Cause Eviction Moratorium has been in place for nearly two years in specific municipalities: Albany, Newburgh, Hudson and Poughkeepsie.
Simply put, good cause protections bar landlords from removing tenants except under certain circumstances while limiting potential increases in rent.
New York State has an eviction moratorium preventing landlords from evicting tenants who submit a hardship declaration until January 15, 2022. Tenants can submit hardship declarations to their landlords or the courts. The hardship declaration may stop a case from moving forward.
Because of the unprecedented pandemic and other factors, many people have been unable to pay rent. While the intention is to minimize people losing the roof over their head, the impact is equally distressing to many property owners. In Western New York, unlike the New York City boroughs, many property owners are individually-owned, the so-called "mom and pop" landlords. They, too, have been affected by this moratorium.
Earlier this week, I accompanied Lisa Damiani, who represents WNY Property Owners Coalition, to Buffalo City Hall. We met separately with South District Councilmember Christopher Scanlon and North District Councilmember Joseph Golombek. Both lawmakers expressed concern for landlords who have not received rent payments for months and will potentially be forced to sell their properties. Some of those properties, they said, are their sole source of income.
Golombek noted that legislating to the extreme is never a good idea, acknowledging that blanket policies encourage bad behavior and that the moratorium can hamstring property owners.
A federal reimbursement program, Emergency Rental Assistance Program (ERAP), has been inconsistent and often delayed, leaving owners empty handed.
Both Councilmembers, along with the Council President, encourages their constituents to call with their concerns; information is also available at the Buffalo common Council website: https://www.buffalony.gov/362/Common-Council. Further discussions, they said, are planned for committee meetings over the next several months.
With the January deadline looming, we will continue to monitor the latest happenings related to the Good Cause Eviction Moratorium. More meetings will be scheduled with other members of the Council. Information can also be found at NAR's site: NAR.Realtor.
What has RPAC done for you lately?
Wondering about your return on your 2021 RPAC investment? Here are some highlights:
Buffalo Mayor Byron Brown was re-elected to an historic fifth term in an unprecedented write-in campaign. We partnered with NAR and NYSAR in those efforts. BNAR advocated for responsible, consistent leadership with Mayor Brown, a longtime supporter of Realtor issues, lower taxes and safer neighborhoods.

BNAR lobbied Town of Cheektowaga officials, helping local Realtors overturn an outdated zoning law, resulting in the sale of homes that had been previously prohibited.
DEFEATED PROPOSALS NYSAR and RPAC played defense on several ill-conceived proposals before the New York State Legislature that were ultimately defeated, including:
Redefining real estate licensees from "independent contractors" to employees.

Expanded DEC Wetlands oversight and removing critical government and public input.

Mandated real estate license number & signature on every document requiring a signature at closing.

New taxes/fees on carbon-based emissions resulting in higher costs for homeowners and consumers.

Various proposals to increase closing costs through higher real estate transaction taxes.
PASSED PROPOSALS NYSAR and RPAC advocated for the passage of the following legislation that were all signed into law by Governor Kathy Hochul:
Numerous Fair Housing related bills pertaining to the real estate education curriculum and statewide fair housing testing.

Electronic notarization with the use of video teleconference technology.

Excluding seasonal use rentals from the provisions regulating deposits and advances for residential dwelling units. RPAC is the only professional organization in the country organized for REALTORS®, run by REALTORS® and exists to promote issues important to REALTORS®. RPAC provides financial support to lawmakers and candidates who understand and support private property rights and the real estate industry.
Please visit the government affairs section of www.nysar.com or join the RPAC of New York Facebook group for the most up to date information on RPAC and NYSAR's legislative program.
Contributions are not deductible for income tax purposes. Contributions to RPAC are voluntary and are used for political purposes.
As always, please contact me with any questions. Thank you for your support!
Brenda Alesii
BNAR Government Affairs Director
VP - Diversity, Equity & Inclusion
O: 716-636-9000 ext 110
D: - 716-923-4152