Government Affairs
Erie County Executive Meets with BNAR Government Affairs Committee
Erie County Executive Mark Polancarz Spoke Before the BNAR Government Affairs Commitee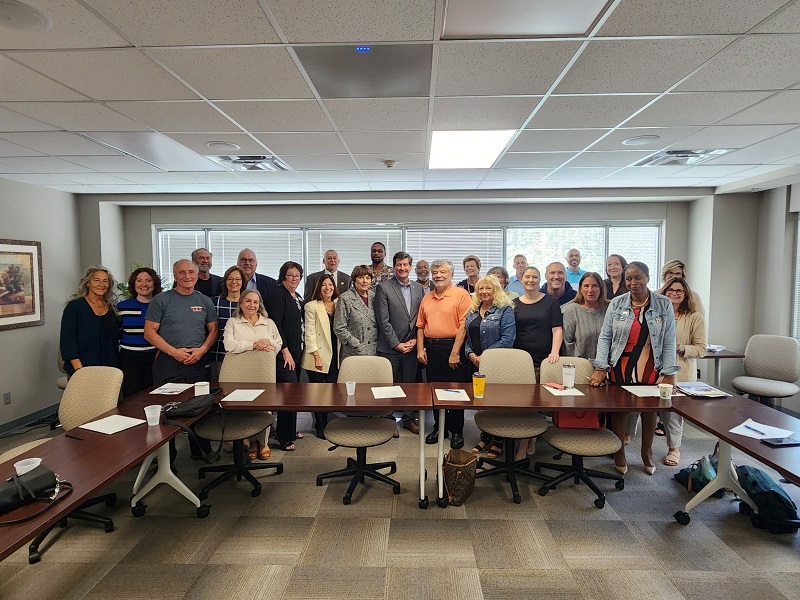 Erie County Executive Mark Poloncarz spoke to the BNAR's Government Affairs Committee about a host of county-wide issues: housing, migrants, Bills stadium costs, taxes, to name a few. We appreciate the face-to-face opportunity to ask questions and discuss pertinent issues of the day with our elected officials
Lisa Avery, Michael Kracker
and Brenda Alesii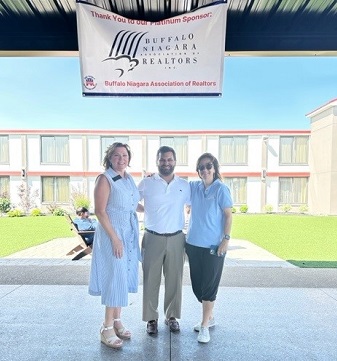 Annual GOP Picnic
(l) On August 19, Erie County GOP Chairman Michael Kracker hosted the annual GOP Picnic at the Buffalo Airport Hotel. Dozens of supporters, elected officials and candidates were on hand as well as BNAR Gov't Affairs Committee member Lisa Avery and Gov't Affairs Dir. Brenda Alesii. Year in and year out the BNAR supports bi-partisan elected leaders who promote Realtor-friendly issues and our industry.



Congressman Nick Langworthy Visit at the BNAR
Congressman Nick Langworthy with staff and members of the BNAR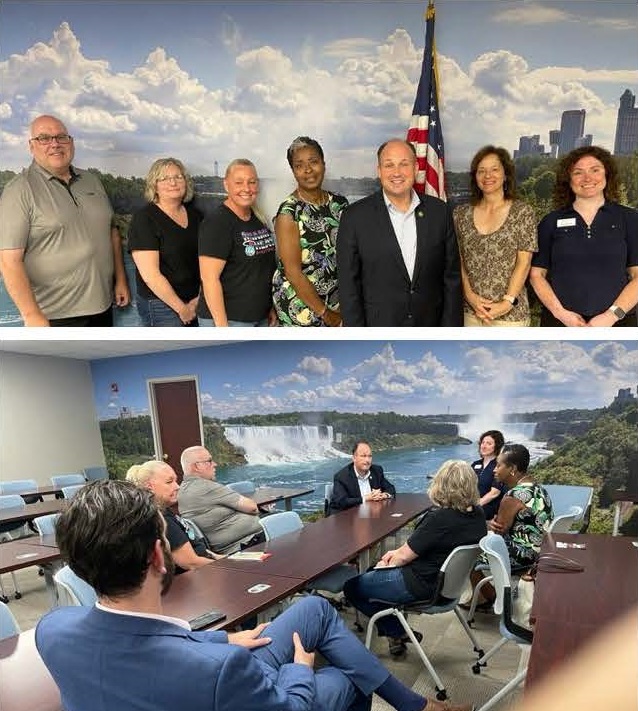 (r) Thanks to Congressman Nick Langworthy and his staff for his impromptu visit to the Buffalo Niagara Association of Realtors' offices on July 28th. In this informal setting, a few Realtor members discussed key issues with Rep. Langworthy, including low inventory, national debt, job training, to name a few. In a bipartisan manner, the BNAR supports elected officials who are friendly to the real estate industry
NYS Assemblymember Jonathan Rivera Fundraiser
(l) BNAR member and State Political Coordinator James Wangelin (L) attended a fundraiser for New York Assemblymember Jonathan Rivera. Representing the 149th Assembly District, Rivera's district covers parts of Buffalo, Lackawanna, Hamburg, Blasdell, and Lake View. Wangelin and Rivera discussed several real estate-related issues, including the BNAR's opposition to Good Cause Eviction and the need for more affordable housing.
Congressman Brian Higgins President's Circle

(left) Rep. Brian Higgins is one of 26 REALTOR Champion targets that was chosen by the RPAC
Federal Disbursement trustees to be included in the 2023 Presidents Circle program. Last night's in-district President's Circle event on the Buffalo Waterfront, brought PC, Major Investors, and BNAR members in Rep. Higgins' district to discuss important topics related to our industry and the health of our economy. FPC Margaret Hartman introduced Congressman Higgins, emphasizing his support of realtor issues over the years.
The President's Circle Program supports REALTOR® Champions—members of Congress who have made significant achievements in advancing the REALTOR® public policy agenda. The President's Circle Program allows REALTORS® to contribute beyond RPAC dollars and increase the strength of the REALTOR® voice on Capitol Hill.
State Senator Tim Kennedy Fundraiser
State Senator Tim Kennedy hosted his annual summer fundraiser on July 13th on the historic USS Little Rock at the Buffalo and Erie County Naval & Military Park. Kennedy, who represents the 63rd District, is a strong advocate for property rights, economic development, and opposes Good Cause Eviction. The BNAR continues to lobby elected leaders in a bi-partisan fashion, ensuring the rights of homeowners and the real estate industry.

Guest Speaker Senator & Minority Leader Robert Ortt
BNAR President Rosalind,
Senator Ortt and miriam treger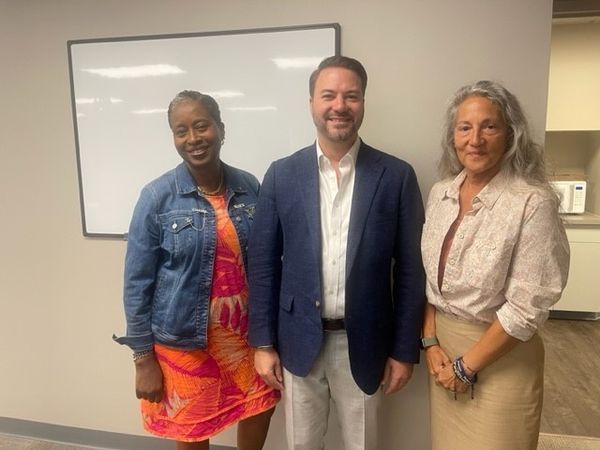 (right) State Senator & Minority Leader Rob Ortt (District 62) was the featured speaker at the BNAR's Government Affairs Committee meeting this morning. Ortt spoke about a myriad of issues, including his opposition to Good Cause Eviction; low inventory; the all-electric bill; the contrasts between NYC and the WNY; homeowner rights; and quality of life issues. Senator Ortt represents Niagara County, all of Orleans County, and the towns of Sweden and Ogden in Monroe County. He noted that he is always available to speak with members of our Association
More on Good Cause Eviction
BNAR President Rosalind Burgin and George Fontas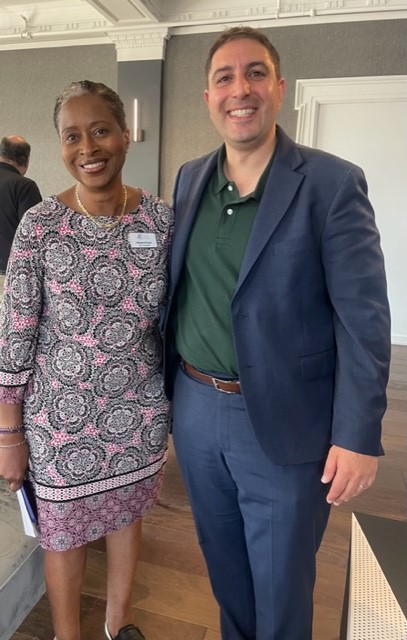 George Fontas led a statewide coalition that successfully fought back against Good Cause Eviction in this legislative session. The BNAR has consistently lobbied against the bill. Fontas was in downtown Buffalo this morning to discuss the behind-the-scenes strategy and tools used in this effort and what we can expect next year. BNAR President Rosalind Burgin, member Ayat Nieves, and Gov't Affairs Dir. Brenda Alesii attended the session to express support for having strong voices from WNY in the halls of government.
Feedback Wanted
To inform the development of the preproposal For New York State's Cap and Invest Program, DEC and NYSERDA request first round feedback on or around July 1, 2023. We encourage you to submit input from your individual and industry perspective; to the extent you need more information to develop a response, please find a guiding document prepared by National Fuel.
Plan to provide "good cause" eviction and housing growth falls apart:
Last night, state legislative leaders issued a joint statement that Good Cause Eviction was not going to be included in the budget despite a hard push by tenant rights groups. Thanks to all who contacted Senator Tim Kennedy and other lawmakers about the harm GCE would cause property owners, many of whom are Realtors. We live to fight another day!
Special Guest at Government Affairs Meeting
Town of Tonawanda Supervisor Joe Emminger was the guest speaker at the BNAR's Government Affairs Committee meeting. Serving in his second term, Emminger addressed numerous topics: redevelopment vs. new projects, regionalism, tax rates, even the $400k cost of a signal light. GA Director Brenda Alesii thanked the supervisor and the members who joined in person and via Zoom.
Career in Real Estate
On May 17, BNAR President Rosalind Burgin and DEI V-P Brenda Alesii spoke at Giulio Colangelo's class at Niagara Falls High School. Topics included careers in real estate and initiatives like the anti-discrimination videos produced by the BNAR. The class was made up of juniors and seniors who expressed interest in the industry. Over the course of the one-hour presentation, the students were engaged and asked many pertinent questions about the education/training required, earning potential, and even what a typical day looks like. As Rosalind often says, "It's a learning day or an earning day.
Details on Lobby Day and the New York State Budget
Here are the Talking Points from this years Lobby Day agenda
Lobby Day 2023 saw two dozen BNAR members travel to Albany on May 1st and 2nd for our annual meetings with state representatives. According to NYSAR, this was the biggest contingent of Realtors from across the state attending this important annual session, which includes other organizations such as law enforcement, fire fighters, domestic violence awareness, and, of course, our colleagues from all corners of New York State.
We were pleased to meet with several State Senators and Assembly members or their staffs. Because the state budget was more than a month overdue, several representatives were called away and had to be "on the floor" for debates and votes. Ultimately, the budget passed late on May 2nd.
The key issues we focused on at each of our 16 meetings were as follows (more details attached):
Support for the increase the experience required for a broker's license
Opposition to Good Cause Eviction
Support for fairness in cooperative homeownership
Support for amending the ban on telemarketing during states of emergency
We garnered tremendous support from each legislator on our four real estate-related issues. One specific example: The Good Cause Eviction bill is not in the new state budget! That is a win. We will continue to monitor all of these issues.
Regarding the State budget, it was finally approved late on May 2nd, a month after the deadline.
Key takeaways:
The plan for affordable housing received much opposition and was withdrawn. Good Cause Eviction, as I stated above, is not in the budget – good news, to be sure
New buildings are to be heated through electricity rather than fossil fuels starting in 2026for small buildings and 2029 for larger buildings.
People can still keep their gas stoves. The budget includes expansion of the Power Authority to produce renewable energy. The new law includes several exemptions for uses that involve backup generators, hospitals and manufacturing/industrial facilities. The final Climate Action Council proposal was less wide-ranging and keeps natural gas in the mix.
Consensus was reached on bail law, but NY remains the only state that doesn't allow a judge to consider dangerousness /public safety measures in determining whether to set bail or remand an individual.
Minimum wage will increase to $16/hour by 2026.
$34.5 billion will be used to fully fund education foundation aid, a record amount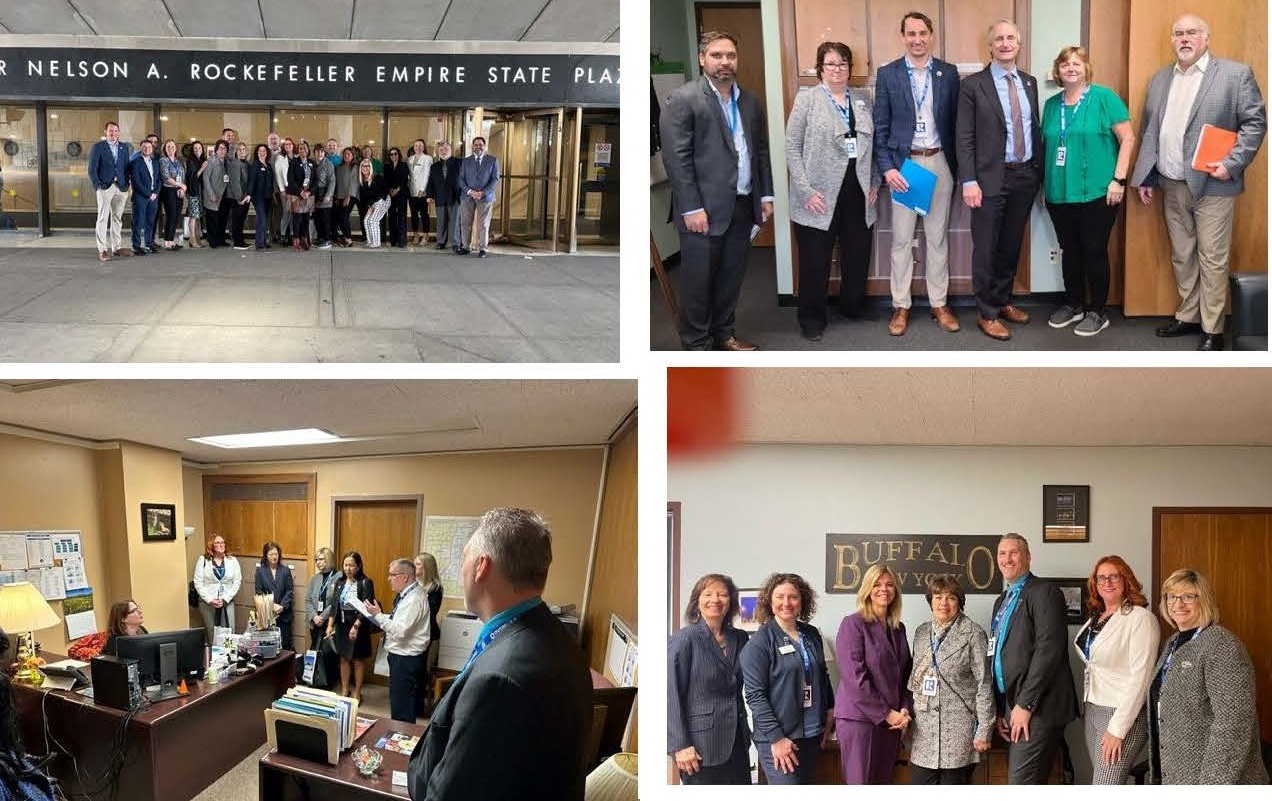 Our 2023 Lobby Day is in the books! My thanks to the Realtors who traveled to Albany to discuss industry issues with our state representatives. Democracy at work.
One-on-One

BNAR Government Affairs Director Brenda Alesii & Buffalo Niagara Partnership CEO/President Dottie Gallagher - In the latest video with WNY movers and shakers, the BNAR's Brenda Alesii talks with Buffalo Niagara Partnership CEO/President Dottie Gallagher about a number of timely topics: the region's business and real estate climate, the Buffalo Bills improved reputation, & WNY's reputation around the country, including some cheap shots that Gallagher still hears to this day. The video is posted on the BNAR Facebook page and on the BNAR website

Erie County Executive Mark Poloncarz Held His State of the County Address

Erie County Executive Mark Poloncarz held his State of the County address yesterday, focusing on affordable housing, totaling $123 million investment, inclusivity and the low county property tax rate.






Congressman Nick Langworthy Meeting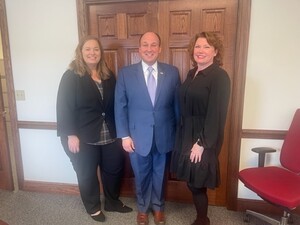 Lisa Avery (r), BNAR member and Federal Political Coordinator for Congressman Nick Langworthy, Darcie McLachlan (l), Executive Officer Chautauqua-Cattaraugus Board of Realtors, and Government Affairs Director Brenda Alesii met with Congressman Langworthy (NY-23) about a myriad of issues, including the lack of inventory, all-electric bill, and property tax relief. A freshman lawmaker, Langworthy represents a vast district, stretching from WNY to Watkins Glen. He also chairs the New York State Republican Committee. BNAR members will meet again with Langworthy at the Legislative Meetings in Washington D.C. next month.
Good Cause Eviction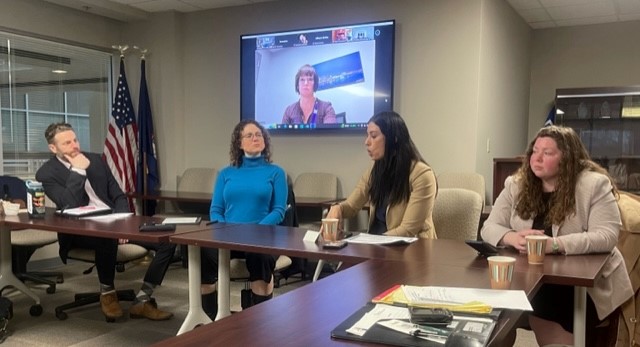 Our Government Affairs Committee meeting met at the BNAR office, with a focus on Good Cause Eviction, which the BNAR vehemently opposes. Thanks to attorneys Jaime Cain and Colleen Killian as well as Lisa Damiani for their insight on this complex issue. We look forward to more thoughtful discussions on the challenges faced by hundreds of property owners, particularly the mom-and-pop owners that are so prevalent.
Congressman Higgins Fundraiser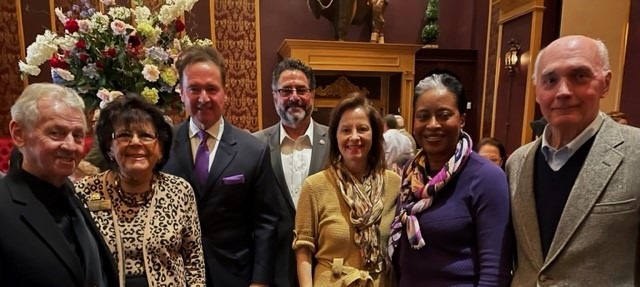 Several BNAR members attended Congressman Brian Higgins fundraiser Tuesday evening at the Buffalo Chophouse. Higgins, who represents the 26th District, serves on the House Committee on Ways and Means, where he also serves as a Member of the Subcommittees on Health, Trade, and Social Security. In addition, Brian currently serves as a member of the House Committee on the Budget
University Councilmember Rasheed Wyatt Hosted a Community Meeting Thursday evening on Edison Street
to discuss the high eviction rate in his district. BNAR President Rosalind Burgin, Government Affairs Director Brenda Alesii, and Realtor Ayat Nieves attended the meeting. A panel of housing officials hear from residents about soaring rents, lack of affordable housing, and property owners who are harmed by tenants who are still taking advantage of the pandemic-related moratorium. Wyatt and members of the panel are seeking solutions and will work with Social services on their task force.
BNAR Government Affairs Meeting- February 2023


The BNAR's Government Affairs Committee met today to discuss a myriad of topics , including the controversial All Electric bill. Realtor members welcomed Luke Marchiori, executive vice-president from Energy Mark LLC, who presented info on the Climate Protection Act, energy usage in NYS, and answered numerous questions from members. The Committee was also updated on Governor Kathy Hochul's record-setting $227 billion budget proposal, the upcoming annual Lobby Day in Albany,
and the importance and need for RPAC support. Thanks to Luke Marchiori and all who attended.
State of the State Address
Here is a synopsis of Governor Hochul's housing remarks yesterday on a key piece of her State of the State address:
The Governor called the state's housing situation a "crisis" and vowed to implement a "New York Housing Compact," with a goal of creating 800,000 new homes over the next decade.
This will include:
Calling on every municipality to amend land use policies to encourage housing development
Setting goals for new housing construction in each municipality
A focus on transit-oriented development
Infrastructure funding to make possible more housing development
Development incentives to encourage new housing

New York Gov. Kathy Hochul will deliver her State of the State address — her first as an elected governor — today, January 10th at 1:00.
Hochul will give the annual address at 1 p.m. in the state Assembly chamber at the state Capitol in Albany, the traditional location for it before former Gov. Andrew Cuomo moved them to the convention center at the Empire State Plaza, which allowed for more people to attend beyond the members of the Legislature.
Hochul returned the address to the Assembly chamber this year and called it the "original and rightful setting" for it in her speech.
The address is given annually at the beginning of the new state legislative session. State lawmakers will returned to Albany on Jan. 4.
Clarence High School Presentation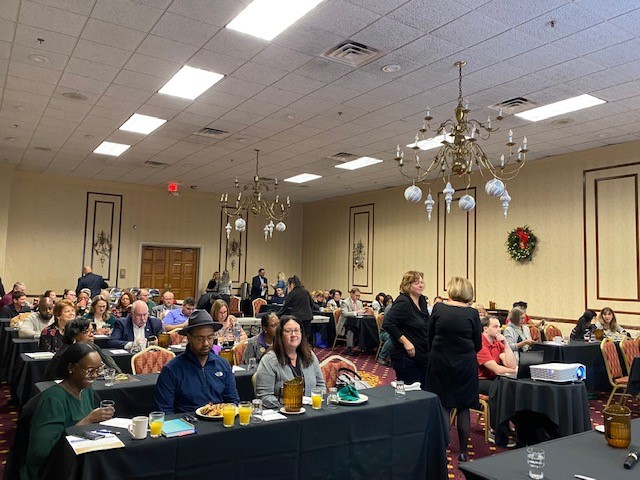 What a pleasure speaking about government affairs and advocacy this morning at Clarence High School's policy class. My thanks to Lianna Hamad for the invitation and my friend Kathleen Lynch, Esq., who joined me in discussing how politics intersects with the law. We were both impressed about how engaged the senior students were, asking excellent questions about today's often chaotic times. #bnarwny #ClarenceHighSchool #advocacy
Update on Good Cause Eviction bill:
Please see the link below for an explanation of the Good Cause Eviction bill, as summarized by NYSAR's Mike Kelly. It is a comprehensive overview of the legislation, which we will continue to fight.
https://pubs.royle.com/publication/?m=45350&i=768879&p=22&ver=html5
Several BNAR members and government affairs director Brenda Alesii attended Buffalo Mayor Byron Brown's annual holiday fundraiser at Seneca One. An array of government, community leaders and WNYers from round the region were at the event, which also featured a toy drive to benefit needy children.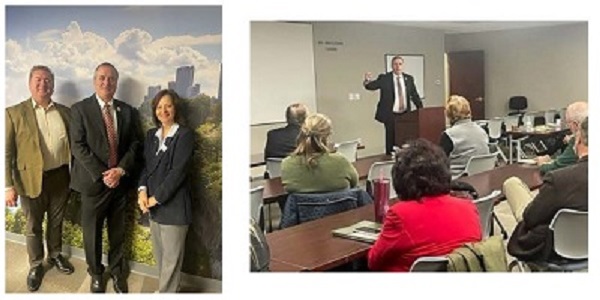 The BNAR's Government Affairs Committee welcomed Erie County Sheriff John Garcia to their meeting this afternoon. In office since January of this year, Garcia, a native of Spain, addressed a myriad of issues: the scope of the Sheriff's responsibilities, Realtor safety tips, budgeting and severe staffing challenges, antiquated facilities, inmate and staff health and training, the exorbitant cost of keeping the Tops accused shooter under 24-hour watch, and the lack of diversity in law enforcement. Garcia, a Grand Island resident, spent 25 years in the Buffalo Police department, ascending to the role of homicide detective. He has won numerous awards for his service and bravery as well as his supervision of the Crisis Management Unit and was recognized by the NY/NJ Organized Crime Task Force, among others. He and his wife, Brenda, are the proud parents of three daughters.
Our Realtor members were engaged throughout, both in person and via Zoom, and asked Sheriff Garcia a variety of questions. It was an informative and memorable session. We thank Sheriff Garcia, Chief Mitchell Martin, and Realtor Deborah Kilbourn, who helped coordinate the meeting, for their time today.
At the request of the Government Affairs Committee, National Fuel President Donna DeCarolis made a return appearance to speak to BNAR members about the controversial Climate Action Council's (CAC) Draft Scoping Plan, the "blueprint" for New York's energy transition. DeCarolis reviewed an in-depth outline of the state's climate goals and the state's Draft Scoping Plan. Additional information was made available to members, who had an opportunity to ask question of DeCarolis. She encourages concerned members and citizens to contact her office at 716-857-7000.
Public awareness campaign on state electrification proposals to be unveiled:
NYSAR recently secured a $75,000 grant from the National Association of REALTORS® in support of a consumer awareness campaign proposal educating New Yorkers on pending electrification recommendations from the state Climate Action Council. Matching funds from NYSAR's Issues Mobilization Committee were also approved to support the campaign proposal. The state Climate Action Council is expected to release a final draft Scoping Plan at the end of December outlining recommendations to the governor and state Legislature to reduce carbon emissions across the state. Pending recommendations include:
No new natural gas service to existing buildings;
Prohibiting propane, natural gas and oil equipment in new homes in 2024;
Prohibiting traditional heating systems in existing homes beginning in 2030;
Ban use of natural gas appliances (dryers, stoves, etc.) in homes beginning in 2035;
No gasoline vehicles sold in New York in 2035;
Requiring single & multifamily property owners to obtain and disclose prior year energy consumption and energy performance ratings in real estate listings.
Early Voting for General Election
Early voting for the November 8th general election runs from October 29th – November 6th from the hours of noon – 9pm. Your vote may be cast at any location regardless of where you reside or you may hand deliver completed absentee ballot to early voting locations. Here are links with locations for Erie and Niagara Counties:
https://elections.erie.gov/.../EARLYVOTING%202022General.pdf

https://elections.niagara.ny.us/.../Early-voting-GE-22.pdf


Government Affairs Director Brenda Alesii was invited to speak at the Amherst Women's GOP Committee Meeting on October 25th. BNAR member Mary Jane Zak hosted the session. Alesii talked about the role of communication in today's media, real estate industry, and the upcoming gubernatorial election.
New York Gubernatorial Race Update

Republican candidate for governor, Representative Lee Zeldin, has agreed to debate Gov. Kathy Hochul this week. The debate — the only one before the general election on November 8 — will be held at 7 p.m. on Tuesday, October 25 and hosted by Spectrum News NY1. The debate will be held at Pace University in Manhattan and will be available on Spectrum news channels.
Town Hall with Senator Gillibrand
Thanks to U.S. Senator Kirsten Gillibrand for hosting a Town Hall in Buffalo on October 14th. Government Affairs Director Brenda Alesii attended and asked the senator about housing inventory and lower tax rates in New York State. Senator Gillibrand was engaged, responsive and said she will provide additional feedback in the next two weeks. Please contact Brenda at 716-636-9110 or at balesii@bnar.org with any questions.
Key Elections Slated for November 8, 2022

Some key elections are on the docket in New York State this fall, including the marquee match-up for Governor and Lieutenant Governor. The general election is slated for November 8, 2022.

Following the resignation of Governor Andrew Cuomo on August 24, 2021, Lieutenant Governor Kathy Hochul (Democratic Party, Working Families Party) became the Governor. Hochul, along with her Lieutenant Governor running mate, Antonio Delgado (Democratic Party, Working Families Party) is running for a full term, facing Republican challengers Lee Zeldin (Republican Party, Conservative Party) and his running mate, Alison Esposito (Republican Party, Conservative Party). This is one of 36 gubernatorial elections taking place in 2022. The governor serves as a State's top Executive Official and is the only Executive office that is elected in all 50 states. There are currently 28 Republican Governors and 22 Democratic Governors in the U.S.
Other key New York State races include New York States Comptroller incumbent Thomas P. DiNapoli (Democratic Party, Working Families Party) versus Paul Rodriguez (Republican Party, Conservative Party). In addition, Incumbent Letitia James (Democratic Party, Working Families Party) and Michael Henry (Republican Party, Conservative Party) are running in the general election for Attorney General of New York.

For more information, including poll locations and time of operation, please contact the Erie or Niagara Counties Boards of Election at the links below.
Niagara County Board of Elections – https://eletions.niagara.ny.us
Erie County Board of Elections – https://elections.erie.gov
Let's Get Out the Vote!
October 14, 2022 is the last day to register to vote for the general election. Mail registration must be postmarked no later than Oct. 14th and received by the Board of Elections no later than Oct. 19th. If you were honorably discharged from the military or you've become a naturalized citizen after Oct. 14th, you may register in person at the Board of Elections up until Oct. 29th.
Here are the links for the Erie County and Niagara County links:
The general election is November 8th. Please be sure to participate in our democracy and vote.
The Buffalo Niagara Partnership hosted Republican nominee for New York State governor Lee Zeldin Thursday afternoon at their downtown Buffalo offices. BNAR government affairs director Brenda Alesii attended the discussion, which was moderated by the Partnership's President & CEO Dottie Gallagher.
Incumbent Democrat Kathy Hochul will meet with the Partnership in the next couple of weeks. In his remarks, Zeldin, a Suffolk County Congressman, commented on a number of topics:
Both individual and corporate taxes must be lowered across NYS; supports statewide spending cap
Cashless bail laws need to be repealed, crime is out of control in the state
Need young people to remain in the state by working in jobs that emphasize trades, tech colleges, and similar programs. A degree or diploma doesn't guarantee a job.
Test scores need significant improvement. Students in our state are lagging behind those in other regions.
Need to tap into the state's natural resources. If a natural disaster occurs, all electric appliances are useless.
Advocated for lifting caps on all charter schools
Does not support firing non-vaccinated workers
The BNAR supports leaders and nominees in a non-partisan manner, with the criteria that the candidate support the real estate industry.
The general election is November 8, 2022. Please vote and make your voice heard!
Former BNAR president miriam treger and current Secretary/Treasurer Vienna Laurendi attended a fundraiser for State Senator Edward Rath Tuesday evening. Rath has supported REALTOR issues over the years, including voting for the Homeowner Property Rebate Credit and the elimination of sales tax on essential goods. The BNAR supports candidates and legislators in a non-partisan fashion with the proviso that those in government support the Real Estate industry.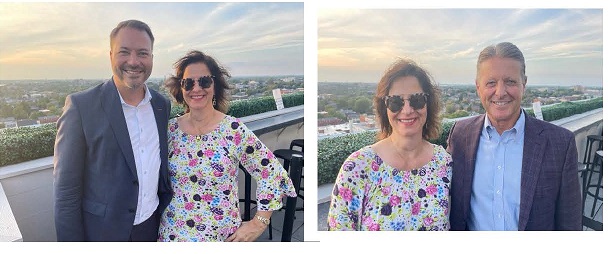 New York Senate Senator Rob Ortt, who is also the Republican Senate minority leader, hosted a fundraiser in downtown Buffalo Tuesday evening. Ortt, who represents the 62nd Senate District, was sworn into office as a New York State Senator in January of 2015. The District includes Niagara and Orleans Counties, including the city of Niagara Falls. Government Affairs Director Brenda Alesii attended the function and spoke to Senator Ortt and his colleague, State Senator Patrick Gallivan, among others. Brenda reiterated to the Senators how the BNAR continues to oppose the Good Cause Eviction bill, which will resurface again in January when the State Legislature returns to session. Both lawmakers continue to oppose the bill. The BNAR supports bi-partisan candidates who are REALTOR-friendly.
Cold Calling still prohibited in New York
New York's State of Emergency related to COVID-19 expired on September 12 at midnight. However Governor Kathy Hochul has declared numerous other States of Emergency that are currently in effect until at least October 9, 2022. As a result of being under other States of Emergency, licensees are still prohibited from making any cold calls.
Real estate licensees may not make any unsolicited phone calls to a member of the public during a State of Emergency. General Business Law §399-z(5)(a) states "It shall be unlawful for any telemarketer doing business in this state to knowingly make an unsolicited telemarketing sales call to any person in a county, city, town or village under a declared state of emergency or disaster emergency as described in sections twenty-four or twenty-eight of the executive law." All other types of marketing such as mailers, billboards, social media, internet etc., are permitted. You may call a FSBO if you have an identifiable purchaser interested in the property. You are prohibited from calling the FSBO to solicit the listing. You may still perform business to business calls so long as you are calling the number provided as the business number.
Good news from Washington, D.C.:
President Joe Biden recently signed the Inflation Reduction Act into law, a sweeping climate, health care and tax bill that spares affordable housing investment and other real estate from the most feared new taxes. The $784 billion legislation allows Medicare to negotiate prescription drug prices, invests billions of dollars into clean energy and imposes a 15% minimum tax on corporations with more than $1 billion of earnings. A portion of the revenue raised also will go toward deficit reduction.
But the law excludes an array of tax measures on real estate investment proposed last year. "When discussions began on the original Build Back Better plan, there were nearly a dozen tax changes that could have decimated our efforts to increase the supply of affordable housing," says Shannon McGahn, NAR's chief advocacy officer. "After spending more than a year educating lawmakers on these proposals, a bipartisan consensus emerged that they weren't a good idea, and none of the harmful tax changes made it into the final bill."
In March, the White House included a historic funding request for affordable housing in its budget proposal. Then, in May, thousands of REALTORS® descended on Washington, D.C., and hand-delivered to Congress a comprehensive list of actions they could take to address the housing shortage. Also, in May, the Biden administration released a Housing Supply Action Plan. In July, the Treasury Department allowed the use of $350 billion in American Rescue Plan funds for developing, repairing and operating affordable housing units.
"We aren't just working with Congress and the administration," McGahn says. "We're also working with industry partners and agencies on a wide array of initiatives to expand homeownership—such as the Black Homeownership Collaborative' s 3by30 plan to add 3 million net new Black homeowners by 2030."
U.S. Congressman Brian Higgins Fundraiser

Several REALTOR members, along with Federal Political Coordinator Margaret Hartman, and BNAR Government Affairs Director Brenda Alesii attended U.S. Congressman Brian Higgins annual picnic in downtown Buffalo on August 16th. Higgins is a longtime supporter of REALTOR issues; he represents the 26th congressional district, serving since 2005. The district, numbered as the 27th district from 2005 to 2013, includes Buffalo and Niagara Falls.
Standard & Poor has Upgraded Erie County, NY

Good news has been reported by Erie County Executive Mark Poloncarz on the County's fiscal health: Standard & Poor's has upgraded the county's rating from AA- to AA, the highest rating enjoyed by the county since 1975. Factors contributing to the boost include a growing property tax base, a flood of federal stimulus money, and a strong sales tax growth, The AA rating is the third-highest credit rating attainable, which means the county is in a strong position to meet its financial obligations

WEBR Radio AM 1440 Interview August 3, 2022
The Buffalo Niagara Association of REALTORS Government Affairs Director and VP of Diversity, Equity & Inclusion (DEI), Brenda Alesii, joined REALTOR Mary Murray Jacobs today on "Open House." Jacobs hosts a real estate-related show on WEBR AM 1440 every Wednesday at 6pm. Alesii and Jacobs discussed why DEI is a huge priority for the Association, the initiatives put forth by the DEI committee, and the need for diversity education. In addition, Alesii explained how government affairs work involves lobbying legislators on all levels – from City and County Halls to Albany to Washington, D.C. - to protect homeowners' rights, lower property taxes, and a litany of other REALTOR-friendly issues. The BNAR appreciates the opportunity to spread the word about the wide variety of services available at the Association.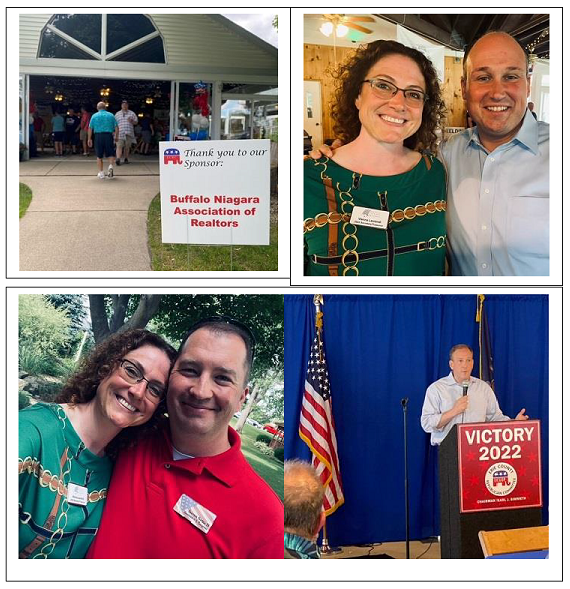 The 12th Annual GOP Chairman's BBQ at Joseph's Catering & Grove took place on a sunny, warm Saturday in Depew. The annual picnic, held this year on July 30th, featured a number of Republican candidates speaking to supporters about their races, including gubernatorial candidate Lee Zeldin and Congressional candidates Nick Langworthy, Carl Paladino and Steven Sams II. The Association was represented by Vienna Laurendi, BNAR's 2022 Secretary/Treasurer. Vienna had an opportunity to hear more about each candidate's platforms and speak to each of them about their upcoming competitive races. As always, the BNAR supports REALTOR-friendly candidates in a non-partisan fashion. Early voting for Congressional and Senate races runs from August 13 – 21, with primary day on Tuesday, August 23rd
Latest happenings from Albany:

Tenant lobby calls for special session to pass statewide good cause eviction; Albany appeals Court decision. Tenant activists and lobbyists rallied at the state Capitol on Wednesday, July 13, calling for a special legislative session to pass "good cause" eviction legislation, arguing that the recent state Supreme Court decision to void the city of Albany "good cause" eviction law makes statewide action more urgent. The City of Albany filed an appeal to the Court's decision striking down the law. Landlords and REALTORS® continue to argue the state legislation amounts to rent control and would limit the ability to repair and maintain rental buildings.
Governor Hochul signs bill to increase energy efficiency standards

Gov. Kathy Hochul signed a bill into law Tuesday, July 5 that will broaden the powers of the state's building code council when it comes to greenhouse-gas emissions and place tighter energy efficiency standards on new household appliances. The Advanced Building Codes, Appliances and Equipment Efficiency Standards Act requires the state Energy Research and Development Authority (NYSERDA) to come up with tougher water and energy efficiency standards for standard appliances – including everything from refrigerators to ice machines to clothes dryers to commercial fryers. Anything that does not meet the new standards will not be permitted to be sold, leased or installed in New York, according to the law. The law will further require the state's new building code to take the state's climate goals into account "to the fullest extent possible" as they are developed. New York to apply tougher energy efficiency standards with new climate laws.
NYSAR submits testimony on recommendations from State Climate Action Council

On June 29th, NYSAR submitted formal testimony to the New York State Climate Action Council expressing serious concerns regarding the costs and feasibility of several recommendations included in the Council's Draft Scoping Plan. Among those concerns include high costs of electrification and retrofitting single-family homes to be all-electric, affordability and reliability of energy supply to consumers, and the overall impact on current and future homeowners and commercial property owners. Read NYSAR's full testimony here.
The Climate Action Council has made the following recommendations:
No new natural gas service to existing buildings;
Prohibiting propane, natural gas and oil equipment in new homes in 2024;
Prohibiting traditional heating systems in existing homes beginning in 2030;
Ban use of natural gas appliances (dryers, stoves, etc.) in homes beginning in 2035;
No gasoline vehicles sold in New York in 2035;
Requiring single & multifamily property owners to obtain and disclose prior year energy consumption and energy performance ratings in real estate listings.
Summer Fundraiser
The BNAR, including Government Affairs Director Breda Alesii, was represented at State Senator Tim Kennedy's annual summer fundraiser aboard the USS Little Rock on the Buffalo waterfront Wednesday evening. Kennedy was joined by several community and government leaders, including his mentor Congressman Brian Higgins. As always, the BNAR offers bi-partisan support to candidates and political leaders who are REALTOR friendly.
Early voting for New York governor and other offices runs from Saturday, June 18 through June 26th. Erie County has the most extensive early voting program in the State, with 38 locations available. Voters may cast their ballot at any location regardless of where they reside & may also hand deliver completed absentee ballots to election inspectors at all early voting locations. For more information or questions, call (716) 858-8891; website: https://elections.erie.gov
Here is an update on the Good Cause Eviction bill, which the BNAR has lobbied hard against:
We have successfully halted the progress of the Good Cause Eviction bill, which was introduced by a Senator Julia Salazar, a progressive Democrat from Brooklyn. The bill would have capped annual rent hikes at 3% and made it more difficult for landlords to evict tenants for not paying rent if it increased by more than that, unless they could prove "good cause" for doing so in court, such as violating other terms of the lease agreement. This would often result in permanent tenancy, and allow tenants to get away with not paying rent for months as well as prevent wholesale redevelopment of buildings. This bill will most likely be re-introduced in January. Thanks for all your work in helping to raise awareness of this impactful issue and for those of you who lobbied with us in Albany on May 10th.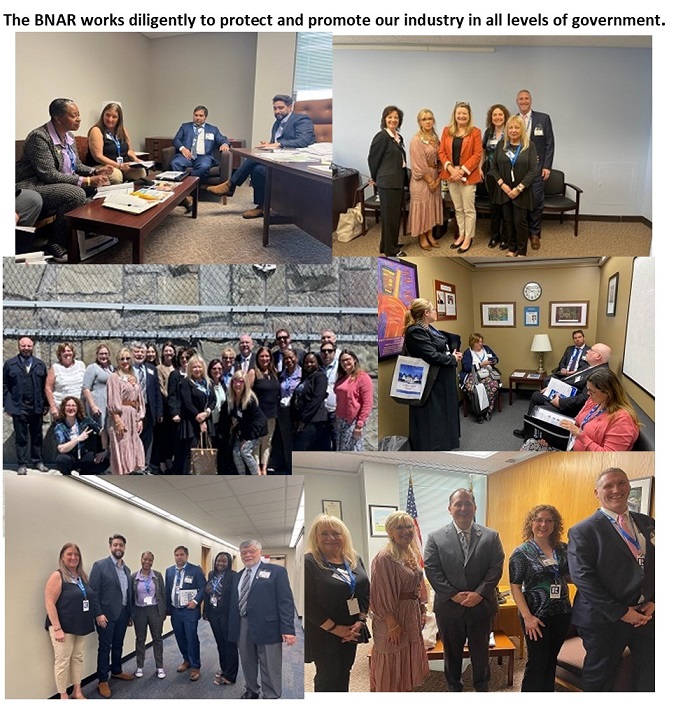 Lobbying has been the focus of the BNAR leadership team over the first two weeks of the month. On May 1st, we traveled to the nation's capital to meet with our region's Congressional representatives and discussed key topics directly related to home ownership.
Additionally, a week later, we traveled to Albany with a contingent of REALTOR members who met with our State Senators and Assembly members in Albany. Our focus was on four specific areas of interest: Good Cause Eviction, Telemarketing Restrictions, Housing Co-op Transparency, and the All Electric Building Act.
Congressional Maps
On April 28, 2022, the state's highest court threw out the state's Democratic-drawn congressional map because of partisan gerrymandering. After a redistricting commission couldn't agree on the district lines, the Democratic majority took the pen. Republicans sued, arguing the lines were skewed. An appeals court agreed, saying that the maps gave Democrats a leg up in 22 of the state's 26 congressional districts — and that it violated the state constitution. Now, the court has appointed a special master to draw new maps. The delay means NY's primary election — which was scheduled for June — may not happen until August. All of this could throw a wrench in candidates' plans as they try to garner support ahead of the midterms.
Government Affairs Committee Meeting April 28, 2022
Our thanks to National Fuel president Donna DeCarolis for her informative presentation this morning to the government affairs committee regarding the controversial Climate Action Plan. We look forward to further discussions and the results of the public hearings, which end on June 10th
Nick Langworthy Reception
BNAR Secretary/Treasurer Vienna Laurendi and Government Affairs Committee Co-Chair J. Gerard Green, along with the Association's Brenda Alesii, attended a reception in support of New York GOP Chairman Nick Langworthy on April 21st at the Buffalo Airport Hotel. Langworthy, the statewide leader of his party, spoke about the challenges of running Republican races in a mostly blue state, the upcoming June primary, and his party's support of Republican candidates. Several were on hand, including veteran police officer Alison Esposito, the candidate for Lieutenant Governor, who also addressed the crowd. She and Lee Zeldin are on the GOP ticket along with a slate of others who hope to defeat Democrats in the primary and election. As always, the BNAR supports Realtor-friendly candidates in a consistent bi-partisan way.
BNAR Town Hall
Buffalo Mayor Byron Brown was our guest at our April 13 BNAR Town Hall meeting. A longtime supporter of Realtor professionals, Mayor Brown addressed a number of housing issues in the city, new affordable property initiatives, and the need for collaboration with suburban communities. The fifth term incumbent also discussed a number of other key initiatives:
"Rapid Upskilling" in which residents are trained in new careers, affording them the opportunity to live in safe and thriving neighborhoods
Need to expand housing, with a goal of 40% affordability in the city
11,000 vacant lots remain in the city, values are rising; the city is strategically assembling lots to develop housing on the parcels
Seeks range of options in multi-tier housing, making the city an address of choice
Continue to redevelop former schools into city housing
Work with property owners to resolve issues related to the Good Cause Eviction bill
Collaborate with Amherst and other communities to help with housing issues – inflation, pandemic problems, higher interest rates
Mayor Brown was accompanied by Hope Young-Watkins, the city's director of real estate. He encouraged members to call her for any assistance needed. After a 40 minute presentation, the mayor spoke with a number of Realtors in an informative Q & A session.
Both County and State budgets are in the news this week. Here is a brief highlight of some of the relevant points related to real estate:
Erie County budget:
Erie County Executive Mark Poloncarz noted the county is in a unique position with a budget surplus of more than $150 million, a combination of federal stimulus, COVID relief monies, and higher than expected sales tax revenue.
Regarding property taxes, Poloncarz proposed a lowered property tax rate per thousand of assessed value from $4.42 for 2021 to $4.33 in 2022, a rate Poloncarz said is the lowest since 1960.
A "Live Well Erie Summit" to address affordable housing is slated for June and an Affordable Housing Task force will address Emergency Rental and Mortgage assistance remedies.
New York State "Conceptual" budget
Property tax rebate for homeowners: Gov. Kathy Hochul's first budget includes a new property-tax credit for 2.5 million eligible residents earning less than $250,000. The total is about $1.2 billion dollars, it was reported. Checks will be between $500 and $600 dollars and should be going out sometime in late summer or early fall, before the next election.
Middle-class tax cuts: Hochul requested an expedited tax cut for more than six million New York residents, two years earlier than the state's middle-class tax cut plan. Those cuts vary by income and apply to households earning between $27,000 and $349,000.
A $4.2 billion environmental bond act will go before voters this November. Much of the money will go toward strengthening water and sewer systems.
BNAR Government Affairs Meeting March 31, 2022
At our Government Affairs Committee meeting on 3/31/22, we were joined by two town supervisors, John Whitney from Grand Island and West Seneca's Gary Dickson. Both gentlemen have unique backgrounds – Whitney was a longtime engineer before entering politics and Dickson was an FBI agent, who served five years in Moscow and other hot spot locations around the world. Both supervisors spoke about sewer code compliance, the status of properties in their respective towns, including the former Fantasy Island and the old Seneca Mall, along with a host of other town issues relevant to Realtors. We appreciate such informative conversations from our elected officials.
Good Cause Eviction Update:
Take Action Now! The state Legislature is considering passage of "Good Cause Eviction" legislation, which would restrict the ability of a landlord to evict a tenant, even in cases where their lease has expired so long as the tenant continued to pay rent. The bill (S.3082/A.5573) would also effectively cap annual rent increases to 3% or 1.5 times the CPI for most rental properties statewide with four units or more, unless the landlord is able to prove before a judge that an increase above that threshold is necessary or reasonable.
Urge your state lawmakers to oppose "Good Cause Eviction" legislation by filling out the petition here. This petition is part of NYSAR's coalition efforts to oppose "Good Cause Eviction" as we partner with other real estate and business groups across the state.
"Good Cause Eviction" would simply make it less affordable to provide rental housing, severely discourage real estate investment, and ultimately drive up rents for tenants. Thank you for making your voice heard on this important issue.
Complete the Call for Action by copying and pasting the following link into your browser or clicking on the button below:
https://www.hfaany.com/take-action
The BNAR and NYSAR continue to lobby against the passage of the Good Cause Eviction bill, which would undoubtedly result in higher property taxes, fewer quality homes, and impossible burden on property owners. The Eviction Moratorium, which expired on January 15, 2022, has already proven to be detrimental to so many owners, especially the numerous mom-and-pop owners in our region. Tenants in New York State already have ample protection against eviction. The Housing Stability & Tenant Protection Act of 2019 provided tenants throughout the state with several new and enhanced protections against eviction.
Recently NYSAR and other concerned parties sent a letter to Governor Kathy Hochul and the state legislature detailing why this bill should not be passed. Here are the key points:
Thank you for your leadership during this time of crisis and for your efforts to help our state build back better and more equitably. As a statewide coalition of property owners, we were pleased to see the inclusion of $2 billion in pandemic relief funds in the FY 2023 Budget proposal. We are writing to request that you allocate the full $2 billion towards either the Emergency Rental Assistance Program (ERAP) or other rental assistance programs. The ERAP program is the best way to get targeted help to renters financially hurt by the COVID-19 emergency, but the program needs more funding for it to be effective. ERAP has thousands of unfulfilled, pending applications that require funding. Additionally, there may be more eligible renters who did not yet apply. We expect that many of them will now apply with the expiration of the COVID[1]19 Emergency Eviction and Foreclosure Act (CEEFPA). Lastly, as ERAP only covers 12-months in arrears, either this program must be modified or LRAP must be adapted to ensure tenants in particularly dire circumstances can access a second allocation. The immediate availability of the State funds could allow for the money to flow more quickly to renters in need. By partnering with courts across the state, these funds could be distributed to prevent nonpayment proceedings from progressing and keep struggling renters in their homes
As always, contact me with any questions at balesii@bnar.org or at 716-636-9000, x110.
___________________________________________
On January 25, 2022, the Buffalo Common Council passed a resolution supporting the state Good Cause Eviction Bill. The vote was 5-4. Councilmembers Feroleto, Golombek, Scanlon and Wingo were in the negative. Council President Pridgen stated that he believed the state bill needed work and that he would like the Western New York delegation to take a hard look at what should be done. He was the swing vote and made a statement about not punishing good landlords but something needs to be done to protect tenants.
Many REALTOR members are also landlords, investors, and property owners. As the pandemic has raged on, thousands of people have been adversely affected by the Eviction Moratorium and Good Cause Eviction laws. On January 15th, Governor Kathy Hochul did not extend the moratorium, but significant issues remain. The bill had created a perpetual lease. Additionally, many problems became apparent with the flawed distribution of emergency rental assistance funds, an issue that still lingers to this day.
On January 21st, BNAR government affairs director Brenda Alesii hosted a virtual meeting with Realtor members about these issues. Lisa Damiani from the WNY Property Owners Coalition addressed the group in detail about the moratorium and good cause eviction. Damiani's group has been very vocal in their support of landlords, property owners, and investors. Both Alesii and Damiani have lobbied officials in the State Senate and Buffalo Common Council. They urged Realtor members to make their voices heard by calling, emailing, or sending letters to government officials. It was noted that other aid is available. In the meantime, the BNAR, along with NYSAR, will continue to monitor the situation and keep the Association membership updated. For more information, please contact Brenda Alesii at balesii@bnar.org.
BNAR Government Affairs Meeting February, 2022
Thanks to Erie County Clerk Mickey Kearns and Kate Lockhart from the WNY Law Center for joining the BNAR's Government Affairs Committee. Our members learned more about the Zombie homes/foreclosures that Clerk Kearns and Ms. Lockhart are diligently working on throughout the county. We appreciate the efforts of these devoted professionals as well as the excellent questions posed by our committee members.
Latest News:
On January 18, 2022, Governor Kathy Hochul presented her first Executive proposed budget for the fiscal year beginning on April 1, 2022.
The $216 billion budget proposal includes multiple real estate related initiatives including affordable housing funding, homeowner rebate checks and changes to the use of criminal background checks by landlords.
The next step in the state budget process is a slate of Legislative hearings in specific budget areas which will begin next week and conclude on Feb. 16.
Following that, the Senate and Assembly will each present their legislative priorities and negotiations with the Governor will begin.
The state budget is required to be approved by April 1.

The Pandemic Continues...
The pandemic continues to affect all of us in countless ways, including life in the very places we live. One of the more challenging impacts of this unprecedented global pandemic has affected both property owners and landlords. A measure called the Good Cause Eviction Moratorium has been in place for nearly two years in specific municipalities: Albany, Newburgh, Hudson and Poughkeepsie.
Simply put, good cause protections bar landlords from removing tenants except under certain circumstances while limiting potential increases in rent.
New York State has an eviction moratorium preventing landlords from evicting tenants who submit a hardship declaration until January 15, 2022. Tenants can submit hardship declarations to their landlords or the courts. The hardship declaration may stop a case from moving forward.
Because of the unprecedented pandemic and other factors, many people have been unable to pay rent. While the intention is to minimize people losing the roof over their head, the impact is equally distressing to many property owners. In Western New York, unlike the New York City boroughs, many property owners are individually-owned, the so-called "mom and pop" landlords. They, too, have been affected by this moratorium.
Earlier this week, I accompanied Lisa Damiani, who represents WNY Property Owners Coalition, to Buffalo City Hall. We met separately with South District Councilmember Christopher Scanlon and North District Councilmember Joseph Golombek. Both lawmakers expressed concern for landlords who have not received rent payments for months and will potentially be forced to sell their properties. Some of those properties, they said, are their sole source of income.
Golombek noted that legislating to the extreme is never a good idea, acknowledging that blanket policies encourage bad behavior and that the moratorium can hamstring property owners.
A federal reimbursement program, Emergency Rental Assistance Program (ERAP), has been inconsistent and often delayed, leaving owners empty handed.
Both Councilmembers, along with the Council President, encourages their constituents to call with their concerns; information is also available at the Buffalo common Council website: https://www.buffalony.gov/362/Common-Council. Further discussions, they said, are planned for committee meetings over the next several months.
With the January deadline looming, we will continue to monitor the latest happenings related to the Good Cause Eviction Moratorium. More meetings will be scheduled with other members of the Council. Information can also be found at NAR's site: NAR.Realtor.
What has RPAC done for you lately?
Wondering about your return on your 2021 RPAC investment? Here are some highlights:
Buffalo Mayor Byron Brown was re-elected to an historic fifth term in an unprecedented write-in campaign. We partnered with NAR and NYSAR in those efforts. BNAR advocated for responsible, consistent leadership with Mayor Brown, a longtime supporter of Realtor issues, lower taxes and safer neighborhoods.

BNAR lobbied Town of Cheektowaga officials, helping local Realtors overturn an outdated zoning law, resulting in the sale of homes that had been previously prohibited.
DEFEATED PROPOSALS NYSAR and RPAC played defense on several ill-conceived proposals before the New York State Legislature that were ultimately defeated, including:
Redefining real estate licensees from "independent contractors" to employees.

Expanded DEC Wetlands oversight and removing critical government and public input.

Mandated real estate license number & signature on every document requiring a signature at closing.

New taxes/fees on carbon-based emissions resulting in higher costs for homeowners and consumers.

Various proposals to increase closing costs through higher real estate transaction taxes.
PASSED PROPOSALS NYSAR and RPAC advocated for the passage of the following legislation that were all signed into law by Governor Kathy Hochul:
Numerous Fair Housing related bills pertaining to the real estate education curriculum and statewide fair housing testing.

Electronic notarization with the use of video teleconference technology.

Excluding seasonal use rentals from the provisions regulating deposits and advances for residential dwelling units. RPAC is the only professional organization in the country organized for REALTORS®, run by REALTORS® and exists to promote issues important to REALTORS®. RPAC provides financial support to lawmakers and candidates who understand and support private property rights and the real estate industry.
Please visit the government affairs section of www.nysar.com or join the RPAC of New York Facebook group for the most up to date information on RPAC and NYSAR's legislative program.
Contributions are not deductible for income tax purposes. Contributions to RPAC are voluntary and are used for political purposes.
As always, please contact me with any questions. Thank you for your support!
Brenda Alesii
BNAR Government Affairs Director
VP - Diversity, Equity & Inclusion
O: 716-636-9000 ext 110
D: - 716-923-4152